General News – October 14, 2020
Enhanced expertise in automation and robotics
Comrod subsidiary Sørskår Mekaniske Verksted (SMV) have acquired the automation division of Westcontrol AS. The agreement means Westcontrol, a long-standing partner of Comrod, will transfer its automation division to SMV, further enhancing their expertise in automation and robotics. The division will be integrated with the rest of SMV at their new facility at Comrod.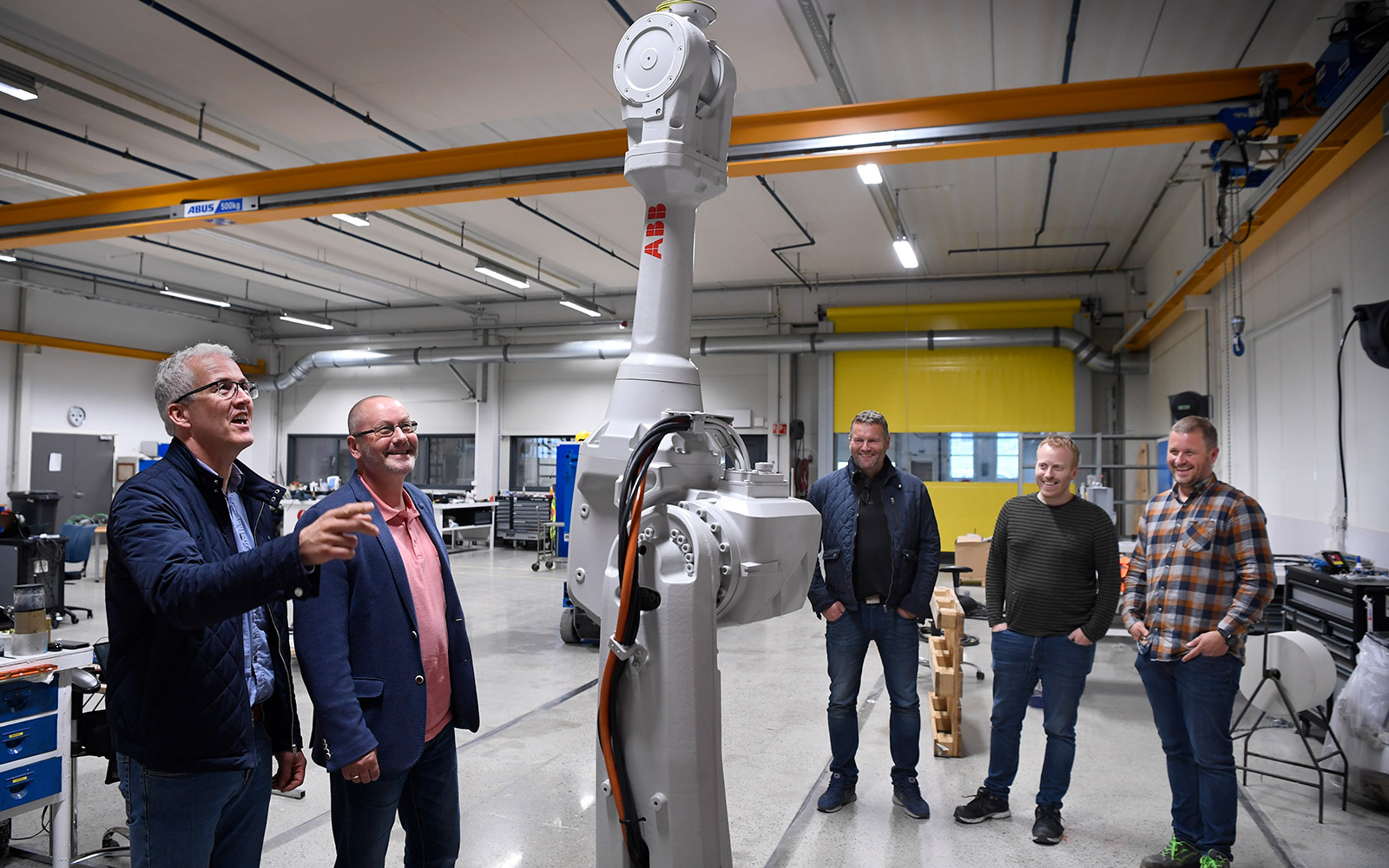 Looking at one of the new robots at Sørskår Mekaniske Verksted. From left: Ole Gunnar Fjelde, Leif Petter Skaar, Arvid Nag, Øyvind Sørskår and Torbjørn Fjelde. All photos: © Pål Christensen/Aftenbladet
Comrod acquired Sørskår Mekaniske Verksted (SMV) in 2019 to harness local expertise and strengthen investment in robotization of production. This latest agreement is a natural progression of this commitment.
"Robotization will be absolutely crucial to be competitive in a high-cost country like Norway. This applies to us at Comrod and to the rest of production-based Norwegian industry", says general manager of Comrod Communication AS, Ole Gunnar Fjelde.
The high-tech investment currently taking place in the 3,000 sqm new building at Comrod is expected to have a total investment of approximately NOK 85 million. NOK 25 million of this will be used for new machines and new equipment.
As part of this initiative, a close collaboration will start with Strand VGS School on the training of students with specialization in robotics. Annually, 15 students from the school will receive their training in the new building in close contact with the professional environment of SMV.
"The fact that we now have so much local expertise in automation and robotics means that we can really be at the forefront of this field. It is important for Comrods own investment in robotization, but also to be able to offer robotization solutions to other parts of the industry in Norway", says Mr Fjelde.
Following the acquisition, Sørskår Mekaniske Verksted will be 67.3% owned by Comrod Communications AS, 22.4% by Sørskår Holding AS and 10.3% by Westcontrol.
About SMV
Sørskår Mekaniske Verksted AS (mechanical workshop ) is a supplier of mechanical services including robotization. Sørskår's products are mainly made of aluminum, plastic and acid-proof steel.
# # #
About COMROD
COMROD Communication Group is a leading international manufacturer of antennas, control systems, masts and power supplies for the defense and commercial markets.
# # #