From man-portable to heavy duty motorized
Comrod has the widest range of tactical masts in the industry including sectional, sectional tripod and telescopic with models available using composite or aluminium materials.  Masts sizes range from light duty man-portable sectional up to heavy duty motorized masts for fully automatic deployment.  The mast selectors above feature a small selection of our standard range of masts.  Many can be customized to suit a customer requirement.  If you have a specific mast requirement then please contact us for further information.
Composite Sectional & Tripod Masts
Comrod's composite sectional masts are used to elevate top loads such as antennas, cameras, sensors, lighting, etc. Sectional masts have excellent resistance to sand and dirt, are unaffected by low temperatures and can withstand bullet damage.  Man-portable sectional masts are quick to deploy, cost effective solutions for elevating light top loads such as omni-directional and wire antennas up to heights of 9 meters. 
The ULM-48 sectional tripod mast is a very light-weight solution for elevating top loads up to 15 kg (33 lbs) at heights up to 15 meters (50 ft).  The larger ULM-92 and MLV-125 sectional tripod masts are ground mounted systems used to elevate heavier top loads up to 34 meters.  Masts can either be deployed by hand or motorized depending on the height and top load weight.  Centralized guying systems reduce the number of personnel required to deploy the mast and keep the top load stable during deployment in high winds.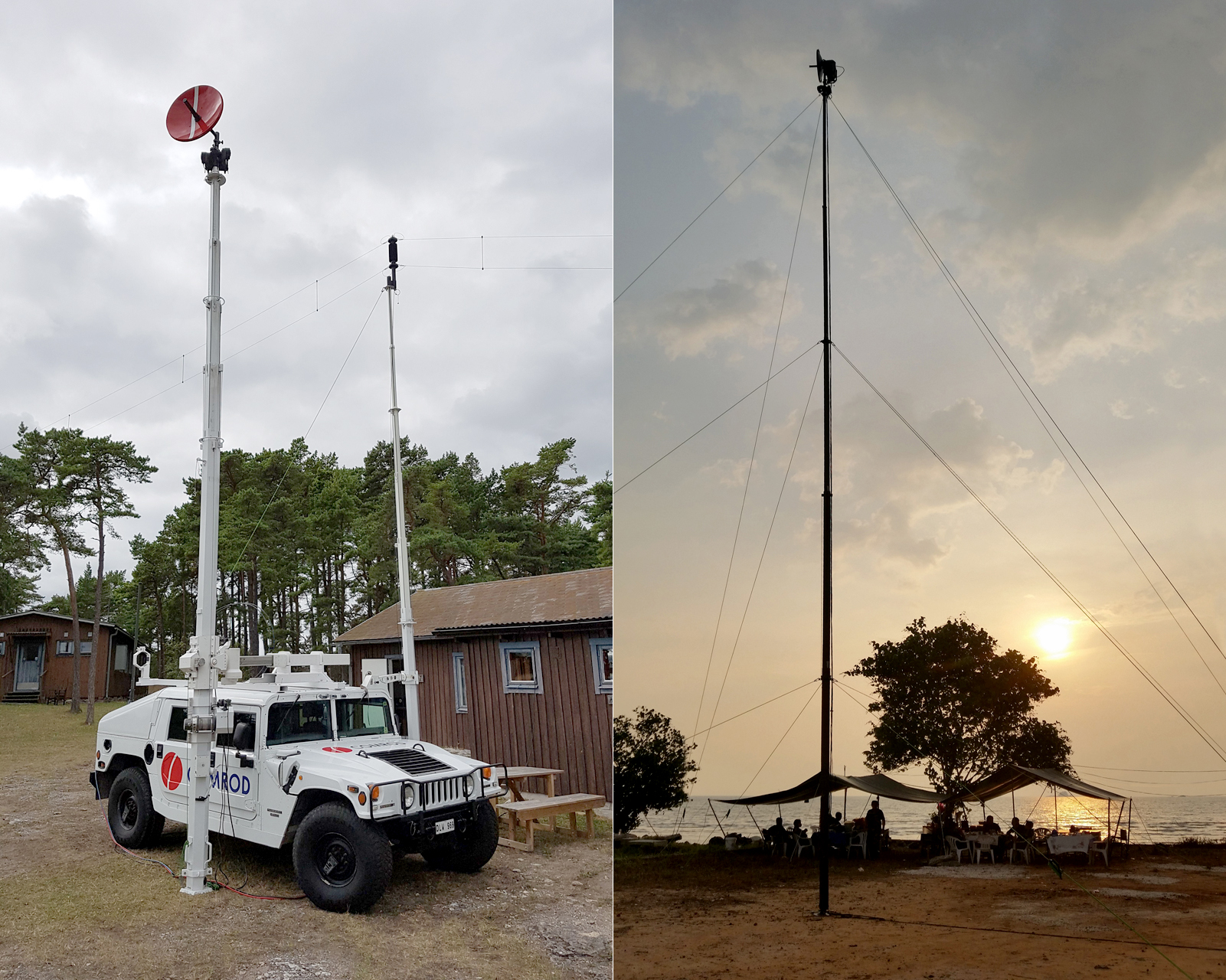 Telescopic Masts
Comrod telescopic masts can be either ground mounted or vehicle/shelter integrated. Masts are manufactured from glass fiber, carbon fiber or aluminium sections for exceptional strength and light weight.  Metal fittings are painted aluminum or stainless steel.  MT series masts are lightweight telescopic push up masts up to heights of 9 metres that can be ground deployed or vehicle mounted.  TM and IDTM series masts are operated using either a hand winch or motorized winch. Masts are capable of elevating top loads up to 250 kg up to heights of 30 metres.  Vehicle and shelter brackets enable stowage during transportation, with fast and safe deployment.
Heavy Duty Telescopic Masts
LMT and TM series masts are motorized heavy duty masts manufactured from carbon fiber or aluminium tube sections. Masts are deployed using an internal motorized belt/cable system that can be operated remotely from a vehicle or shelter. TM series aluminum masts have a proven design and are operated across the world.  Both the TM and LMT mast series are available for on-the-pause and on-the-move applications.  LMT mast sections lock together when fully deployed to maintain a rigid platform that can be used on-the-move. TM and LMT series masts are typically used for elevating heavy headloads that require a high level of pointing accuracy such as electro-optical and infra-red (EO/IR) equipment.