Power Supplies & Battery Chargers
ComPact Power Supplies – Resource Page
This page contains technical information for ComPact owners.
Important note to users of ComPact Dual Input models
Because of a bug in firmware revisions S to 31, the DC input will have high current draw during startup.  This is fixed by upgrading the firmware to revision 32 or higher. It is highly recommended to upgrade the firmware on all ComPact Dual Input units.  Please note that this bug is only present in Dual Input models, not in any other models.
Models affected:
ComPact1200-12-Dual-Input
ComPact1200-24-Dual-Input
ComPact1200-36-Dual-Input
More information is provided in the Technical Reference and White Paper – ComPact Dual Input – High startup currents
Firmware 32 (part of the ComPact Config Utility) and updated Technical Reference is included in download "ComPact Documentation and Support Software" below.  To upgrade the firmware, you also need the ComPact Communication Kit. If you do not already have this kit, please contact Comrod.
Remote control software
Comrod Power has remote control software called ComrodPowerSupport that customers can download and execute, which will give Comrod Power remote control access. This can be used for training/demonstration purposes.  When ComrodPowerSupport is started, it looks like the image shown.
Notes:
ComrodPowerSupport is not permanently installed on your computer. When ComrodPowerSupport is closed, it is no longer possible for Comrod Power to access your computer.
Access is password protected. The password is not available to anyone outside Comrod Power.
ComrodPowerSupport is based on TeamViewer.  If you already have TeamViewer installed, there is no need to run ComrodPowerSupport. Just give the ID and password to Comrod Power support personnel. If you do not wish to give your password to Comrod Power, temporary stop your installed TeamViewer, and run ComrodPowerSupport.
Download: ComrodPowerSupport (17MB)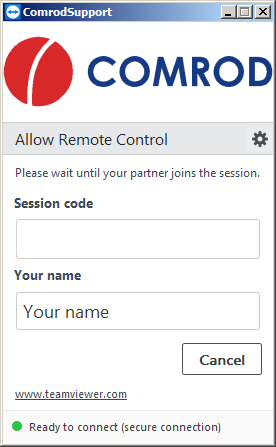 Device driver for the Moxa Uport 1150I
The device driver for the Moxa Uport 1150I is included in the ComPact Communication Kit download below, but the driver may not be the newest revision.  The newest driver is available here: http://www.moxa.com (Search for UPORT 1150 to find the driver). 
ComPact files
These downloads are are password protected ZIP-files. Only registered users may access these files. Contact Comrod Power to get the password.  The files listed below are the newest released revision. These will be replaced by new revisions as they are released.